Posted:
April 11th, 2014 |
Author:
Davis Neable
|
Filed under:
Uncategorized
|
No Comments »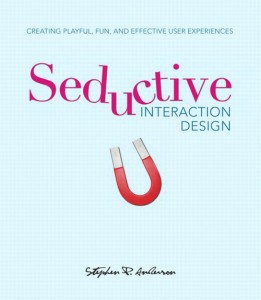 UX Book Club KW is meeting again in May and this time we're focusing on art of seduction. Well, in terms of designing interfaces, at least!
Join us on Thursday May 22nd at 7pm, to discuss Seductive Interaction Design: Creating Playful, Fun, and Effective User Experiences by Stephen P. Anderson (@stephenanderson). The book takes a fresh approach to designing sites and interactions based on the stages of seduction, and examines what motivates people to act.
It's packed with excellent examples of websites employing seductive design, and goes even further to delve into the fundamental psychological theories behind exactly why each of the examples work so well.
We're pretty excited to be hosting this month's meeting at DVLB, the fabulously hip coffee bar in Uptown Waterloo. Because space is limited, we have to cap registration to 15 so be sure to stay tuned for registration details.
If you're not lured in yet, maybe knowing that the fab folks at Wordsworth Books in Uptown Waterloo are giving us 20% off will seal the deal (retails at $36.99)! Direct message us (@uxWat) by April 25th if you'd like one and we'll place a group order. Of course, you can also grab it directly from Peach Pit Publishing, Amazon.ca and other places. And if you're just looking to borrow a copy instead, we'd be happy to lend you ours.
So, have you been seduced? We hope so! Looking forward to seeing you in May.
Stay tuned for registration details and more!
---