Posted:
March 4th, 2014 |
Author:
Mark Connolly
|
Filed under:
Events
|
Tags:
user research
|
No Comments »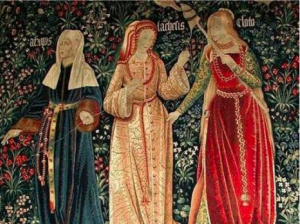 Who doesn't like a great metaphor? If you're a UX practitioner or researcher, you love them right?
In this month's session, join Janice de Jong, Julia Thompson, and Susan Simon Daniels as they use the three fates of Greek mythology to illustrate truths about UX research.
The three fates, who represent destiny, are:
Clotho. The spinner who creates the thread of life. She is the youngest and represents what is possible. Clotho is pictured with a spindle and thread.
Lachesis. The allotter who measures out life. Lachesis is in the middle and decides what kind of life a person will lead and for how long.
Atropos. The last and oldest fate is the one who cannot be turned away—she cuts the thread when the time has come.
There's an interesting parallel between the three fates and the three stages of research throughout a product's life cycle:
Clotho would be trend research typically started earliest and carried out on the farthest horizon, about three years from now. Hear Janice de Jong explain the purpose of trend research, strategies on how to conduct this analysis and how trends influence the product life cycle.
Lachesis would be research around product ideas and concept exploration typically carried out a year or two before a product comes to market. Listen to Julia Thompson describe the goals of exploratory research, best practices for methodologies and how research influences product meaning.
Atropos  would be research on the product's usability typically carried out in the months before the product is launched. Hear Susie Simon Daniels identify goals for usability research, best practices for studies and how usability research impacts the product being shipped out the door.
By weaving these three stages of research together, you'll learn how to spin out a meaningful user experience. We'll follow a product case study to show the research fates at play through the three stages of trends, exploration and usability research.
Sounds like fun, right? Register now!

Thursday March 20 , 2014
5:30 to 7:00 pm
Communitech Hub, P2P Room
151 Charles St. W.
Kitchener, ON N2G 1H6
---