Posted:
March 20th, 2012 |
Author:
Julie Rutherford
|
Filed under:
Events
|
No Comments »
In our March event at the FELT lab, uxWaterloo members gave our feedback to the students from the Research Entrepreneurship Acceleration Program (REAP) at the University of Waterloo.  We listened to quick presentations from each group, and then broke into groups so we could chat more about the usability issues and concerns that they were having in their projects. Thanks to the students for showing us their ideas and allowing us to share our usability expertise!
Our next event in April will give us another chance to provide feedback and apply our usability knowledge.  This time, we'll be having a workshop, where we're helping a not-for-profit group by providing ideas for their mobile app.  Stay tuned fore more!
March 2012 REAP Student Project Highlights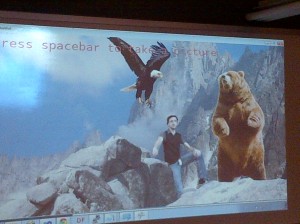 Video Wall– This group was able to film someone and make them look like they were part of an image on a screen.  They were able to gather great ideas about how this could be used in shopping malls and other public spaces.   Their main challenge was how to go from fun to getting a message through to the public.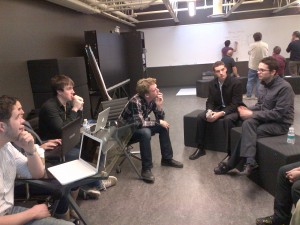 iPad app for Thinkering– Their iPad app can be used for brainstorming sessions, or thinkering, where groups may want to have one person recording their session.  The app creates a cloud of tags that will become searchable.  We brainstormed lots of other day-to-day uses for the app, provided some interaction design suggestions, and came up with ideas for more integration with other devices.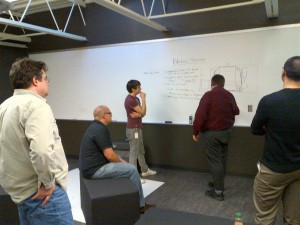 Blister Games- This group has the challenge of taking a boardgame, digitizing it, and making it available on mobile devices.  We were able to suggest ways that they could use of negative space to their advantage, and also provide zoom in/out options that could help players keep track of their moves, and the full board.
---