Posted:
July 13th, 2012 |
Author:
Mark Connolly
|
Filed under:
General
|
Tags:
design
,
design research
,
products
,
user experience
|
No Comments »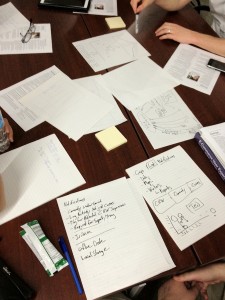 Last month we held a design workshop to brainstorm designs for a software tool that supports rural healthcare workers. This was in support of Tula Foundation, a Canadian not-for-profit, and an organization it supports named TulaSalud.
Ray Brunsting, our guest from Tula, was quite happy with the design ideas that emerged and would like to go further. If any of you would like to continue with the design work that was started at the workshop, Ray would love to hear from you. Of course, this would be on a voluntary basis, but I can say from my own experience that working on a project like this is quite rewarding.
Can you help Tula on this design project? Please let us know, and we'll connect you with Ray.
---