Posted:
March 13th, 2013 |
Author:
Robert Barlow-Busch
|
Filed under:
Events
|
No Comments »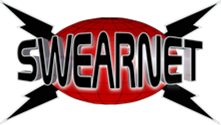 If you're a fan of the Trailer Park Boys, you will NOT want to miss this month's event. Even if you're not a fan, mark your calendar anyway because the discussion is guaranteed to be lively.

Introducing Swearnet
Mike Smith, Robb Wells, and John Paul Tremblay — otherwise known as "the Boys" — are Canadian actors and comedians you might know from the Trailer Park Boys, The Drunk and On Drugs Happy Fun Time Hour, and now Swearnet. This month, we get an inside look at the design and launch of Swearnet.
Swearnet is a new channel for the the Boys to share their style of humour online. It permits them to keep ownership of their intellectual property and better monetize their lives as actors — in other words, they can own the business instead of handing it over to major media outlets and multinational empires. It also frees them from regulatory bodies such as the CRTC and FCC, which to their frustration impose limits on the number of times they can say ****, ****, or even **** *** **********.
Learn about the design and launch of Swearnet
Our guide for this journey is Dan Nedelko of ArtBarn and Honeypot Marketing in Cambridge. Dan has worked with the Boys to make Swearnet's vision a reality, guiding the production of the website. He'll share lots of juicy insights into both the design process and the outcomes of the launch, in a 90-minute meetup you won't soon forget.
The design concept behind the launch of Swearnet is a lot of fun: in a series of weekly videos, the Boys create a narrative arc in which the Swearnet website gets designed and developed by Randy, one of the show's characters. In each video, they harangue Randy for being such a terrible designer while resetting his priorities for the next week; and with each new video, the website itself changes to reflect Randy's most recent work, which continues the cycle.
If you've ever complained about having a nightmare client, you'll relate to Randy's situation. Though it's unlikely you've ever had a client speak so… well, so frankly of their feelings about your work.
Please register for this free event
WARNING: Expect to encounter LOTS of foul language! We'll be showing videos from Swearnet that make it obvious where the site got its name.

Tuesday March 26, 2013
5:30 to 7:00 pm
Private room at The Barley Works
(upstairs in the Huether Hotel)
Note the location change. We are no longer in the Lion Brewery downstairs.
59 King St. North
Waterloo, Ontario
---