Posted:
January 16th, 2014 |
Author:
Mark Connolly
|
Filed under:
Events
|
No Comments »
For our February session, we're handing over the keys to the uxWaterloo car to Katie Cerar and  Davis Neable, two members of the vibrant uxWaterloo community. They have a great initiative to introduce at this session. Take it away, Katie and Davis!
—
If you're like us, January is a time for new projects, collaborations and hopes for making the year ahead the best yet. It's also a time for trying out new activities, and we've got just the thing for you — come reboot your creative energy and get your brain thinking differently at UX Book Club Waterloo!
On Thursday February 20th at 7pm we'll be holding the first ever UX Book Club Waterloo meetup, as a special UX Waterloo event. You're invited to come out and discuss the chosen book with the rest of the UX community.
We'll be meeting in the back room of Symposium in Waterloo, located at 2-4 King Street North (at the corner of King and Erb).
Our book this month will be See What I Mean by Kevin Cheng (Rosenfeld Books). You can buy the book online (hardcopy and digital) at http://rosenfeldmedia.com/books/see-what-i-mean/– and be sure to save 30% using our own discount code UXBCKW!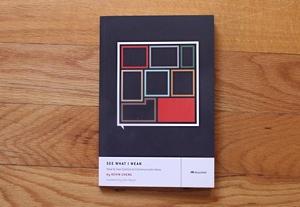 Here's a quick synopsis:
Comics are a unique way to communicate, using both image and text to effectively demonstrate time, function, and emotion. Just as vividly as they convey the feats of superheroes, comics tell stories of your users and your products. Comics can provide your organization with an exciting and effective alternative to slogging through requirements documents and long reports. In See What I Mean, Kevin Cheng, OK/Cancel founder/cartoonist and founder of Off Panel Productions, will teach you how you can use comics as a powerful communication tool without trained illustrators. (from http://rosenfeldmedia.com/books/see-what-i-mean/)
All we ask is that you come ready to share something that really resonated with you and something that threw you for a loop. And, of course, if you're not able to get through the book, no problem – you might still find you have something to contribute or learn!
Does that sound good to you? If so, please register for this event as it helps to make sure we have enough snacks etc.
We can't wait to have you!
Katie Cerar (LinkedIn, @KatieCerar) Davis Neable (LinkedIn, @DavisN) —————-
Q. What is UX Book Club?
A. UX Book Club is a social gathering where we happen to talk about UX books. In a comfortable atmosphere with drinks and food, we'll discuss a book through a UX lens. Whether you're new to UX or an old pro, you can expect a lively and respectful debate, and you should come home with some new perspectives to inspire you in your practice. Try to come prepared with a few things you liked about the book, and one thing you did not agree with.
Q. Where will UX Book Club be held?
A. This UX Book Club event will be held at LOCATION as part of UX Waterloo. Future UX Book Clubs may be in pubs, restaurants, coffee shops, or event peoples' houses! The comfier, the better.
Q. How often will you be holding UX Book Club meetups?
A. Right now we're thinking of having them once every 3 months. However, we want to run them as often as works best with your schedule. Please send us any and all feedback you have – we'd love to hear from you.
Note that this event starts at 7:00pm and is happening at Symposium Café


Thursday February 20, 2014 7:00pm Symposium Café 2-4 King Street North Waterloo, ON N2J 2W7
---