Posted:
April 11th, 2014 |
Author:
Davis Neable
|
Filed under:
Events
|
1 Comment »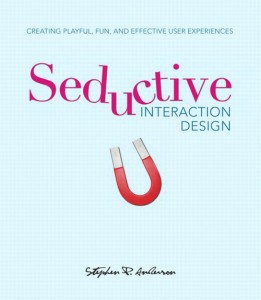 UX Book Club KW is meeting again in May and this time we're focusing on art of seduction. Well, in terms of designing interfaces, at least!
Join us on Thursday May 22nd at 7pm, to discuss Seductive Interaction Design: Creating Playful, Fun, and Effective User Experiences by Stephen P. Anderson (@stephenanderson). The book takes a fresh approach to designing sites and interactions based on the stages of seduction, and examines what motivates people to act.
It's packed with excellent examples of websites employing seductive design, and goes even further to delve into the fundamental psychological theories behind exactly why each of the examples work so well.
We're pretty excited to be hosting this month's meeting at DVLB, the fabulously hip coffee bar in Uptown Waterloo.
You can grab the book directly from Peach Pit Publishing, Amazon.ca and other places, including WordsWorthBooks in Uptown. And if you're just looking to borrow a copy instead, we'd be happy to lend you ours.
So, have you been seduced? We hope so – see you there!
Because space is limited at DVLB, we have to cap registration to 18.  Go ahead and register now:
7:00 to 8:30 pm
DVLB
84 King Street North
Waterloo, ON N2J 2X4
---