Posted:
March 8th, 2015 |
Author:
Mark Connolly
|
Filed under:
Events
|
Tags:
design
,
network
,
systems
|
No Comments »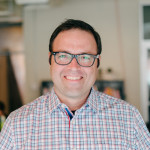 Important note: This event has been rescheduled to April 16. The time of day and location remain unchanged.
For our March April session we're delighted to welcome past Fluxible speaker Matthew Milan back to Waterloo Region!
For thousands of years, networks have played a growing role in the progress of human society. They are the hardware infrastructure that the software of culture runs on. Design has always been about creating culture; what's different now is that the target of design isn't just a user, a group or a market. We're designing for the network.
Proposing a new target for design means that we need a new language of design. We need to consider a new aesthetic, new materials, and new methods, methodologies and mindsets. Perhaps most importantly, we need to reflect on whether the future of design should continue to be human-centered.
This talk will delve into the role of design in our connected world of networks, software and systems. We'll explore approaches and perspectives that can help us become more networked-centered in our work as designers, and challenge some core elements of current design practice by asking what it means to "design for the network".
About Matthew Milan
Matthew is the Co-founder and CEO of Normative, a software design firm headquartered in Toronto. Matthew is a design leader with 15 years of experience in the domain of emerging technologies, specializing in software design, innovation and product development. A veteran of startups in the areas of knowledge management, geospatial visualization and machine learning, Matthew excels at helping collaborators turn complex ideas and information into compelling and engaging user experiences.
A recognized voice in the areas of design and strategy, Matthew speaks regularly at conferences on a wide range of topics including interaction design, systems theory and wearable computing.
Please RSVP for this free event
We manage our monthly events at Meetup.com. Join us there!

Thursday April 16, 2015
5:30 to 7:00 pm
Atlas/Matrix room
Communitech Hub
Kitchener, Ontario

[View on Google Maps]
---