Posted:
January 30th, 2016 |
Author:
Mark Connolly
|
Filed under:
Events
|
Tags:
demo
,
design
,
hardware
,
products
|
No Comments »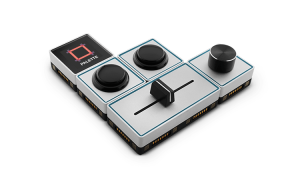 Join us this month to hear the story behind Palette Gear, a startup in the Velocity Garage that recently won top prize at the UX Design Awards in Berlin. Palette makes a very cool "personalized peripheral" system that augments mice and keyboards with physical buttons, sliders, and dials to provide fast and precise editing. Get hands on with the devices, which can be reconfigured in a snap thanks to their simple plug-and-play hardware design. Learn about some of the tough design challenges they've overcome in both hardware and software — and maybe even sketch some ideas for further improvements on the Palette team's radar.
About Palette
Palette is a modular controller designed for creative professionals. You can snap together physical buttons, dials and sliders in any layout (they are magnetic!). The tactile and intuitive controller improves the efficiency for editing photos, videos or music. Palette can also be used to control any other applications and games using the keyboard and joystick mode.
Since the start in 2013, the team successfully participated in the HAX Accelerator (China), Velocity Garage (University of Waterloo) and the Creative Destruction Lab (University of Toronto). Palette has won several competition grants (e.g. Velocity Fund Finals, AC Jumpstart) and also placed 1st in the UX Design awards at IFA Berlin (2015). The company has also been funded by Extreme Venture Partners and SOSventures. Palette has been shipped to thousands of customers already and continue to sell more.
When and where
Thursday February 18, 2016
5:30 to 7:00 pm
Communitech Hub
Atlas/Matrix Room
[View on Google Maps]
Please register for this free event

---